Aroma Sicilia
Traditional Farm, in Bronte, Sicily.
Sicilian Pistachio Production
owned by Alfio Paparo,
Via Garibaldi 48/54
Bronte, 95034 (CT)
Tel +39 3803224663
info@aromasicilia.com
About Us and our pistachios Farm 
I'm Alfio, a young Sicilian farmer, I decided with my family to focus on the country's agricultural tradition of Bronte. We have transformed the family production of pistachio in dialect ''loco'' on the traditional pistachios farm AromaSicilia with the aim of promoting the high quality of Bronte Pistachio to an even greater ... now online.
Work in the fields is hard and yet completely manual, but the passion for agriculture pushes me and my family to continue growing as a tradition... In fact, over the years, like the fruit grows and is accompanied by the cycle of harvesting pistachio, who was born in Bronte has a strong bond with the land, the fruit of the pistachio keeps track of time, work, color and flavour to dishes.

Our Team of Pistachios Harvesting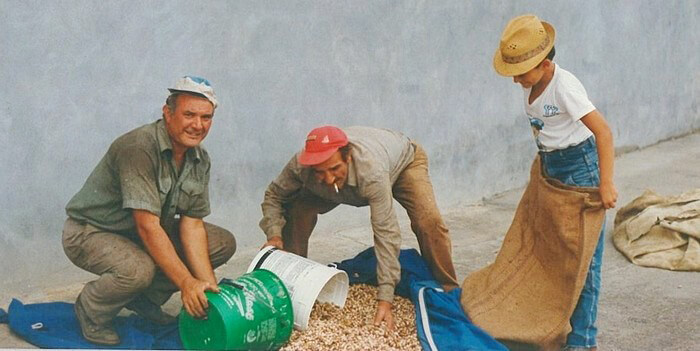 I'm the one with the hat, Alfio I grew up a bit and this photo was taken a bit of years ago... But the pistachios harvest, every odd years, is always the same ... rhythms, perfumes, expectations and fears unchanged over the time. The first on the left is my uncle Vincenzo said 'Austrialiano' he lived in Sydney, where there is still a sizeable colony of Bronte, this photo was taken, right on the year of his return to Sicily, his first pistachios harvest after so many years. In the middle of the photo Granddad Lorenzo, a really Sicilian man marked with mustache and beret ''sicilian coppola''.
Informations about our Pistachios Fields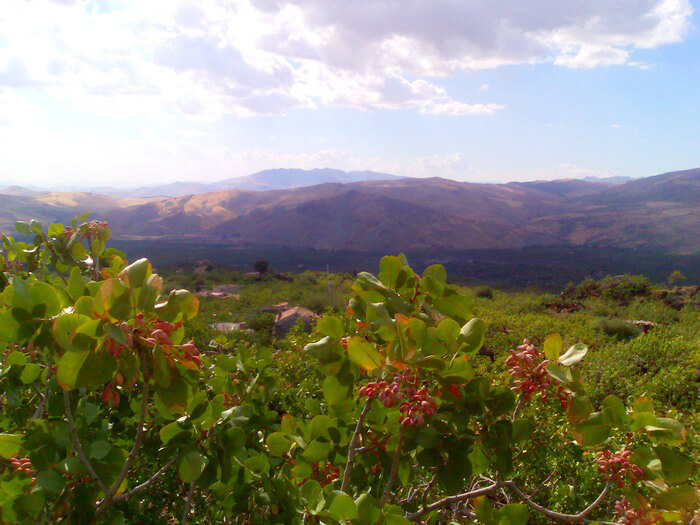 Our main production is in the district of 'Dagali' in Bronte, the name comes from the Latin Dagali or dagale that means islands of vegetation saved from the lava flow, in reality our land extends in a desert of lava rock, so the harvest and the cultivation of pistachios still too hard and totally manual, only possibile wtih the work of the man, is impossibile introduce machineries inside the pistachios fields.
The pistachios harvest takes place every two years, odd years. The fruits are detached from the branches one by one, in a balance between the rocks soaking the resin of trees ... that's why the pistachio maintains its uniqueness, not only its organoleptic characteristics but also the particularity of production that confers the added value now accorded worldwide.
The annual production of Aromasicilia is about 30,000 kg of Pistachios, in an area of about 23 hectares, a lava desert where only the fruit of pistachio (frastuca in dialect from Arab 'fastoch') grows and produces his gems ''pistachios'' fruit.