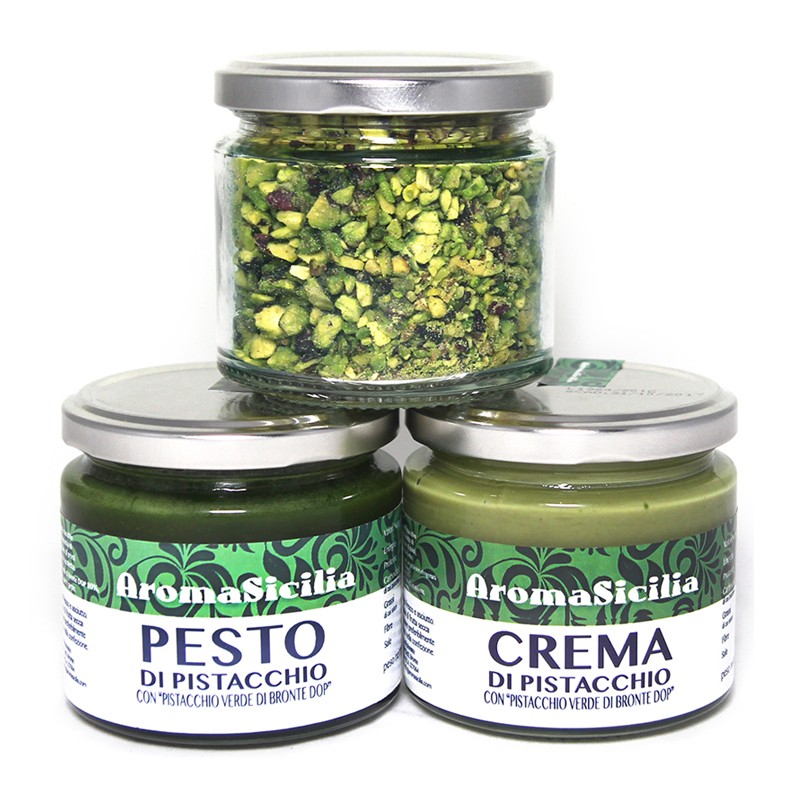  
Pesto, Cream and Chopped Pistachios
Pesto, Cream and Chopped Pistachios
The unique taste of Pistachios Bronte DOP
Special Trio DOP, all certificate Bronte products
1 sweet spreadable cream ideal for breakfast, 1 salt pesto excellent on pasta, pizza and bruschetta and chopped selected pistachios, use on sweet with ricotta or prepare fish or prawns sauce, secret is  to use a drop of Brandy on the soffritto. 
Pistachio Cream Ingredients: Sugar, PISTACHIO Bronte DOP 30%, vegetable oils and fats (sun flowers and palm), skimmed MILK powder, whey MILK powder, emulsifier (soy lecithin), flavourings.
Pesto Pistachios Ingredients: PISTACHIO 80%, sunflower oil, salt
Chopped Pistachios Ingredients: Pistachios 100% 
Allergens: PISTACHIO, possible traces of MILK and DERIVATES, ALMONDS, HAZELNUTS, SOY
Nutritional Values  Pistachios Cream 100 g
Energy 603 Kcal - 2507 kj
Fats 44.8 of which saturated 10.1 g
Carbohydrates 40,2 g of which sugar 39.2
Fiber 3.2 g
Proteins 8.2 g
salt 0.19 g
Nutritional Values  Pistachios Pesto 100 g
Energy 685 Kcal - 2825 kj
Fats 64.9 of which saturated 6.5 g
Carbohydrates 6,5 g of which sugar 3.6
Fiber 8.5 g
Proteins 14.5 g
salt 0.17 g
Nutritional Values  of Pistachios Grain 100 g
Energy 630.9 Kcal - 2605.9 kj
Fats 56.1 of which saturated 5.6 g
Carbohydrates 8,1 g of which sugar 4.5 g
Fiber 10.6 g
Proteins 18.1 g
salt 0 g  
Produced and packaged by:
Zona Artigianale Cap2, Bronte per Aroma Sicilia R.E.A. 327064, BRONTE, ITALY
No customer reviews for the moment.
Customers who bought this product also bought: