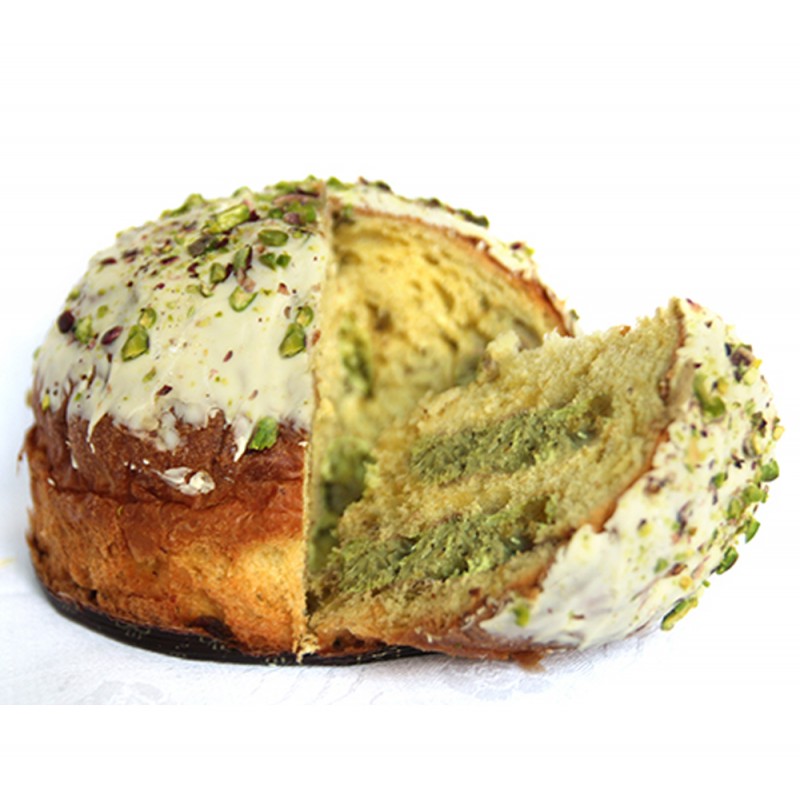  
Panettone Pistachio
Pistachio Panettone 
with cream 750 gr
Pistachio Panettone from Bronte product of sicilian pastry stuffed with Sicilian pistachio cream
Tip: unpack half an hour before serving and keep the cake close to a heat source.
Ingredientes: Flour "0", sugar, butter, egg yolk, Pistachio of Bronte pistachio cream, natural yeast, emulsifier, skimmed milk powder, flavoring and salt.
Available for Christmas from mid-October to mid-January
Pistachio Panettone with pistachio cream 750 gr
Pistachio Panettone from Bronte product of sicilian pastry stuffed with Sicilian pistachio cream
Tip: unpack half an hour before serving and keep the panettone close to a heat source.
Panettone Ingredients: Wheat flour, pistachio paste and sugar 12.4% (50% pistachio, sugar), butter (contains milk), egg yolk, sugar,
pistachio cream 11.2% [pistachio 40%, non-hydrogenated vegetable oils and fats (sunflower oil, coconut oil, cocoa butter)], sugar, powdered skimmed milk, emulsifier: sunflower lecithin, antioxidant: ascorbic acid,
preservative: potassium sorbate, flavor (vanillin), food coloring: copper chlorophyll and curcumin], natural yeast, white chocolate coating 6% (sugar, cocoa butter, powdered milk, powdered whey milk, emulsifier:
soy lecithin, vanilla extract) and pistachio grain 1%, honey, inverted sugar, salt, emulsifier: (Mono and diglycerides of fatty acids) - acidifier: acetic acid, vanilla flavor, flavorings.
May contain traces of nuts or cereals, soy, milk and derivatives. The ingredients in bold can cause reactions
in allergic or intolerant people.
Packaging:
Pistachio Panettone 750 gr - Box 750 gr x 4
Shelf life: 3 months in cool, dry place, away from direct sunlight. Transported and stored in ambient temperature and humidity.
Note:This product is subject to weight loss. Keep in a cool and dry place. May contains other nuts. No preservatives added.
Nutritional values per 100g
Energy kcal 490 2049 Kj
Fats 27 g of which saturated 10.3 1g
Carbohydrates 42.6g of which sugars 26.7g
Protein 18.3g
1.7g fibers
sodium 061g
Produced and packaged for 100voglie srls, in the Viale Kennedy plant, stab. 37 BRONTE 95034 CT
Customers who bought this product also bought: