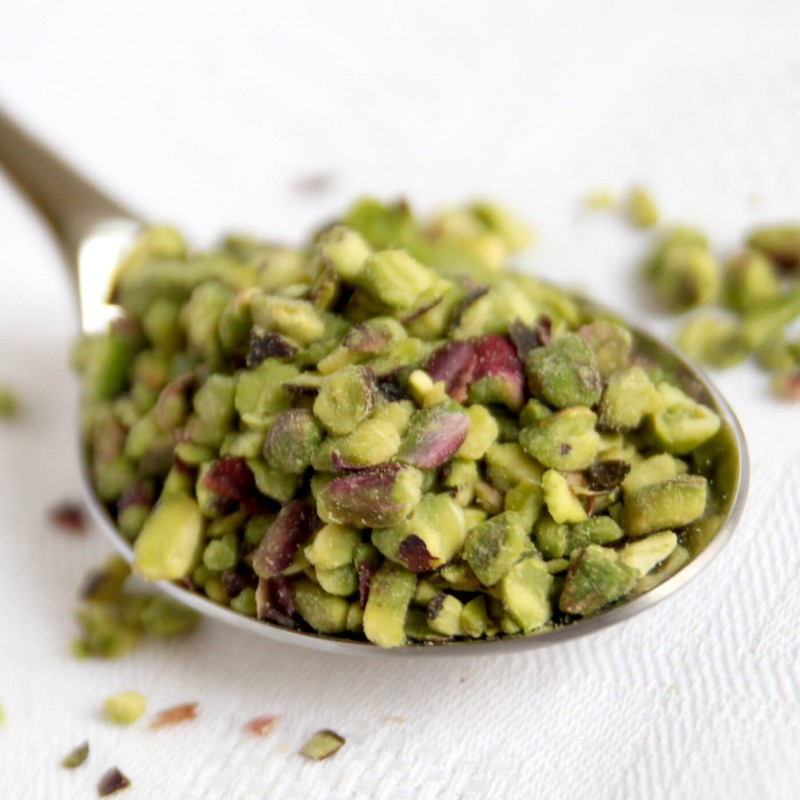  
Pistachio Grain
Sicilian Pistachio Grain
Ingredient: PISTACHIO
high quality product, for the
preparation of desserts, ice cream,
cannoli, pasta and other dishes.
PRODUCED IN ITALY
Sicilian Pistachio Grain
Ingredients: PISTACHIO
Allergens: PISTACHIO, possible traces of ALMONDS, HAZELNUTS
high quality product, for the
preparation of desserts, ice cream,
cannoli, pasta and other dishes.
PRODUCED IN ITALY
Pistachio Crunchy
200 g grain of pistachio
200 g of sugar "florenta" mix
Mix the ingredients and spread in a baking tin, place in the preheated oven for 10 minutes at 130°
When the color of the mix changes, take out the tin and let it rest; then cut it into small squares.
Packaging:
Trays:  100 g  ℮    
Vacuum:  250 g - 500 g - 1 kg ℮
Sack: 5 kg - 10 kg - 20 kg ℮
Custom on demand
 
Shelf life 12 months in cool, dry place, away from direct sunlight.
Transported and stored in ambient temperature and humidity.
 
Store in a cool and dry  place. Attention may contain
residues of the pistachio shell.. Best before the date indicated
Nutritional Values  100 g
Energy 630.9 Kcal - 2605.9 kj
Fats 56.1 of which saturated 5.6 g
Carbohydrates 8,1 g of which sugar 4.5 g
Fiber 10.6 g
Proteins 18.1 g
salt 0 g 
 
Produced and packaged by:
Via F. Baracca 59/A, Bronte   Per Aroma Sicilia R.E.A. 327064,
BRONTE, ITALY
www.aromasicilia.com       -       info@aromasicilia.com
No customer reviews for the moment.
Customers who bought this product also bought: