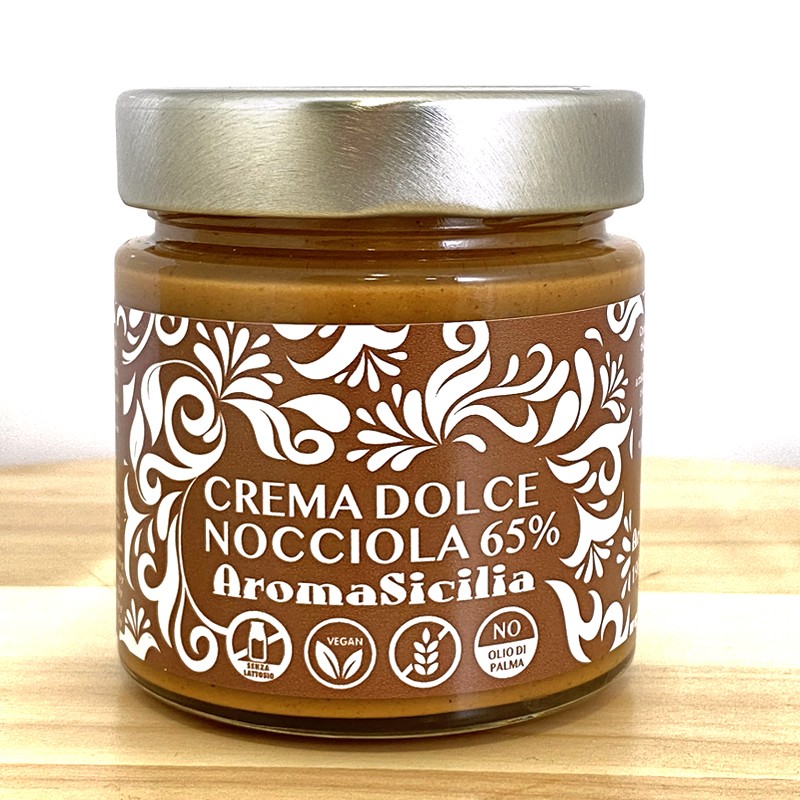  
Hazelnut Cream 65% Free Lactose Gluten Vegan
Hazelnut Cream 65% Spreadable sweet cream without palm oil, gluten and lactose, also suitable for vegan diets. Only selected Hazelnut to create the sweet Hazelnut cream with the 50% of Hazelnut perfect for the preparation of crepes, excellent sweets for breakfast on a slice of bread
Ingredients: HAZELNUT 65%, Sugar, Sunflower oil, Vegetable fat (Cocoa Butter), emulsifier (sunflower lecithin)
Jar of 190gr net weight
SWEET HAZELNUT 65% CREAM
without palm oil, gluten and lactose, also suitable for vegan diets
Pack: Glass jar of 190gr
Ideal for filling cakes and desserts great for breakfast on a slice of bread. 
Ingredients: HAZELNUT 50%, Sugar, Sunflower oil, Vegetable fat (Cocoa Butter), emulsifier (sunflower lecithin)
Allergens: HAZELNUTS, possible traces ALMONDS, PISTACHIOS
Dosage: 2/3 Big spun to prepare 700 gr of Chantilly Pistachio Cream
Nutritional Values  100 g
Energy 565 Kcal - 2351 Kj
Fats 36.7 of which saturated 4.3 g
Carbohydrates 44.2 g of which sugar 42.4
Fiber 5.4 g
Proteins 11.7 g
salt 0.2 g
Produced and packaged by:
C.da Imboscamento Castiglione di Sicilia for Aroma Sicilia R.E.A. 327064, BRONTE, ITALY
No customer reviews for the moment.
Customers who bought this product also bought: